BIOGRAPHY
FILMs 80s - 90s FILMS 60s - 70s <>
HUNGER photos! ADVOCATE interview LOVE SONGS - LE SAUVAGE
Deneuve-cult female site? Join my ring!
Catherine Deneuve club & photo gallery

Click to subscribe to deneuvefilm
CATHERINE & CHIARA
CDs by CD!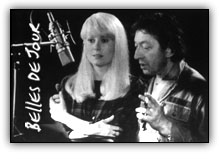 Look out for her famous CD of Serge Gainsbourg songs (both issues available from here - CDNOW ): the hit PARIS PARIS with Malcolm MacLaren: and her reading of Sapphic poetry - BILITIS - with music by Delibes. Her audiocassette of CENDRILLION is now on CD, as are the Demy films and MISSISSIPPI MERMAID soundtrack. In addition there are 5 editions des femmes audio cassettes of her readings of Plath, Sagan, Duras, Rilke + plus 2 charity CDs by des femmes and FNAC.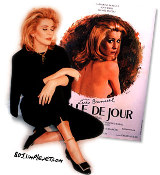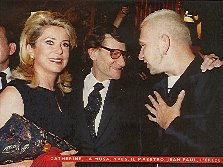 RECENT shots including 1998 World Cup in Paris!
NEWS FROM BELLES DE JOUR

September 1st 1999: Release date of Est-Ouest, the new 80 million franc film by Régis Wargnier. In a small role, Catherine plays Gabrielle, an actress who helps to rescue a couple (Sandrine Bonnaire and Oleg Menchikov) trapped in the post-war Soviet Union.
July 1999: Catherine attended the autumn/winter collection of her friend, the fashion designer Yves Saint Laurent in Paris.
June 1999: Catherine attended the inauguration of the first Monaco branch of the jeweller Chaumet. She was joined by Prince Albert of Monaco, the actress Ornella Muti, and footballer David Ginola.
May 1999: Start of production of Dancer in the Dark, the new film by Breaking the Waves director Lars von Trier. Catherine acts and sings in this comedy musical filmed at the new Trollywood studios in Sweden. The songs are written by Björk, who also takes the leading role in the film. Deneuve's part was written specially for her by the director, after being contacted by the actress.
The Cannes première of Raoul Ruiz's Le temps retrouvé, a 64 million franc adaption of the novel by Marcel Proust, with Catherine Deneuve, Emmanuelle Béart (qv), John Malkovich and Vincent Perez among the high-profile cast. The film goes on general release in France on May 19th.
Catherine Deneuve delighted crowds at Cannes with an unexpected appearance at the première of Leos Carax's Pola X, an official selection at the festival. She is pictured above with co-star Guillaume Depardieu. Catherine also attended the première of Le temps retrouvé on May 16th.
The much-anticipated Pola X is Carax's first film since Les amants du Pont-Neuf (1990). Catherine Deneuve plays the mother of Guillaume Depardieu's character, whose life changes dramatically when he meets a mysterious woman (Katerina Golubeva) who claims to be his sister. The title is an acronym of the Herman Melville novel on which the film is based, Pierre ou les ambiguïtés. A re-edited TV version, with the book's original title, is in preparation for broadcast on Arte in 2001.
April 1999: Catherine Deneuve features on the cover of a new collection of photographs by David Bailey: David Bailey, monographie 1957-1969, volume 1. The book includes many of his best-known pictures, as well as previously unpublished photos of stars of the 1960s, including Catherine, whom he married during this period (they met when he was commissioned to shoot her for Playboy in 1965). Click here for details and to order the book.
Other new films include Benoît Jacquot's La récompense d'une mère, from a novel by Edith Wharton. Filming is scheduled for summer 1999. Commenting on her packed schedule in an interview in Elle (September 1998), she remarked: "It's mostly just an accident of the calendar. Some films have been held back, others brought forward. That's why 1998-9 is so busy for me."
March 10th 1999: Release date of Gabriel Aghion's Belle Maman, a comedy about a bridegroom (Vincent Lindon) who falls in love with his mother-in-law (Deneuve) on his wedding day. With Mathilde Seigner (as the bride), Line Renaud (as Catherine Deneuve's lesbian mother) and Stéphane Audran. On the soundtrack, Catherine sings a rap version of "Happy Birthday", which has also been released as a single.
In a rare television appearance, Catherine was interviewed live on TF1's Public programme. She spoke of her admiration for Stanley Kubrick, whose death had been announced that day, her new films Le vent de la nuit (released on March 3rd) and Belle Maman, her current projects, and her singing career. She also talked of her disappointment that Place Vendôme had fared so badly in the previous day's César presentations (the 1-hour special had clearly been planned as a celebration of Catherine's anticipated Best Actress award).
Contrary to expectations, Catherine did not win the Best Actress César for which she was nominated. It went instead to Elodie Bouchez for La vie rêvée des anges. With 12 nominations, Catherine's film Place Vendôme had been expected to sweep the board at the Césars. As it turned out, the film did not win any awards at all.
Release date of Philippe Garrel's Le vent de la nuit, a sombre but compelling and well-reviewed drama about romantic and political disillusionment, with Catherine Deneuve, Daniel Duval and Xavier Beauvois.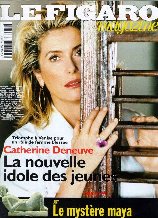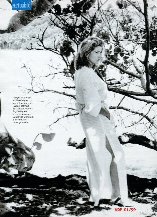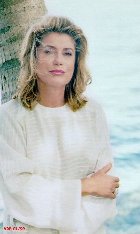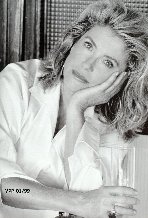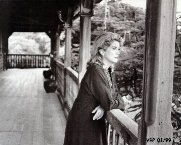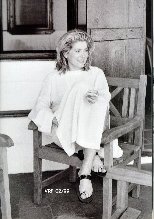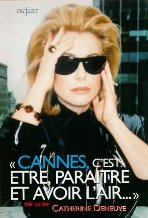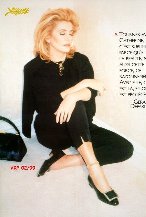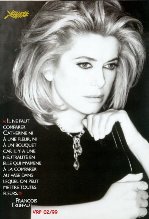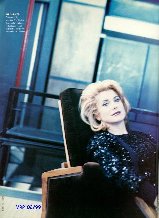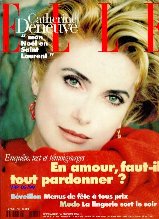 ---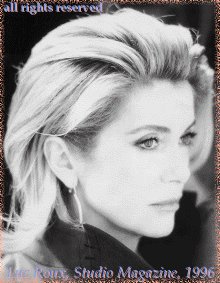 Chronology
October 22, 1943 Catherine Dorléac is born (her parents are actors, she has three sisters)
1961 She meets Roger Vadim (director of And God created Woman, he was married to Brigitte Bardot and Jane Fonda)
June 18, 1963 Birth of son Christian Vadim.
1965 she marries David Bailey (Art Photographer)
1967 Fatal car crash on the French riviera: her sister, actress Françoise Dorléac dies.
1968 Deneuve is hurt by a big ice rock falling from a roof
1971 Deneuve falls in love with famous italian actor Marcello Mastroïanni (La Dolce Vita)
1972 Official divorce from David Bailey
May 28, 1972 Birth of daughter Chiara Mastoïanni
1975 Friendly separation from Marcello Mastroïanni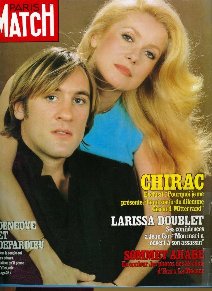 Long time friend & co-star Gerard Depardieu 1980
1980 Album with musician-artist Serge Gainsbourg (Dieu est un fumeur de Havanes)
1981 She wins her first Cesar (The Last Metro)
1984-1991 (?)She meets Pierre Lescure (Canal + Pay TV tycoon)
1987 She gives the Golden Palm at Cannes (Maurice Pialat)
1993 She wins her second Cesar, garners Oscar and Golden Globe nominations (Indochine)
1994 She is vice-president of the International Film Festival of Cannes with American Clint Eastwood
1996 She is honnored at San Sebastian (Spain) and Geneva (Switzerland).
She is President of the French Film Festival at Mexico City.
Documentary and book about her sister Françoise Dorléac.Death of longtime friend Marcello Mastroianni.
Wedding of her son Christian, birth of Chiara's son.
1997 7th Cesar nom as Best Actress (Thieves!).
She signs the Manifesto against Debre's Law. She stars at the Berlin Film Festival and gives the (double) Golden Palm of the 50th International Film Festival of Cannes.
She is honnored at Moscow (Russia) and Vienna (Austria)
1998 She is awarded and honnored at the 25th Brussels Film Festival
Golden Bear for Life time Achivement at Berlin 98
Her salary is around 4 millions francs (700 000 $ per film). She's still among the 5 best paid actress in France.
Silver Lion for best actress at Venice 98
1999 8th Cesar nom as Best Actress (Place Vendôme).
Deneuve is the guest of Michel Field on TF1, the leading TV in France.
2 movies in the Official competition of the Cannes Film festival (hyped Pola X and classic Time Regained) and one more in Venice (arty Wind of the Night).
2000 Death of Roger Vadim, father of her son, Christian.
She gives the Golden Palm of the 53rd Cannes Film Festival to ... Dancer in the Dark!
© Volute productions Thanks to ECRAN NOIR!
>email LUCATH in Wales for details of clippings and tapes.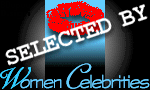 VOTE!WC DENEUVE POSTCARDS

FILMS 80s - 90s FILMS 60s - 70s
and
---